I've done a lot since my last post.
The car is now all one colour. I ended up having to get more paint from ebay after I'd cleared out all the local motor factors of Russett.
The new brushes didn't solve my alternator problem so I bought a brand new one. I finally swapped the SE wheels for the correct early Dolomite steel wheels along with the stainless hub caps. I replaced the exhaust tailpipe, fixed the loose steering column adjustment clamp, replaced one of the hinges on the driver's door, swapped the door mirror, replaced the radio aerial, revarnished the door cappings, repainted the headlining with vinyl silk emulsion and fitted a pair of shelf speakers. I've also changed to super unleaded and it has made a big difference to how the car runs. It is so much more responsive so it is definitely worth the extra it costs. I might even use it in the Astra as well.
In November, the driveplate broke which necessitated removal of the engine.
Fortunately, I had the use of a garage and an engine crane which enabled me to get a replacement fitted.
The distributor cap broke so that had to be replaced. I bought a Britpart cap from Rimmer Bros and it looks a bit more substantial then the old one.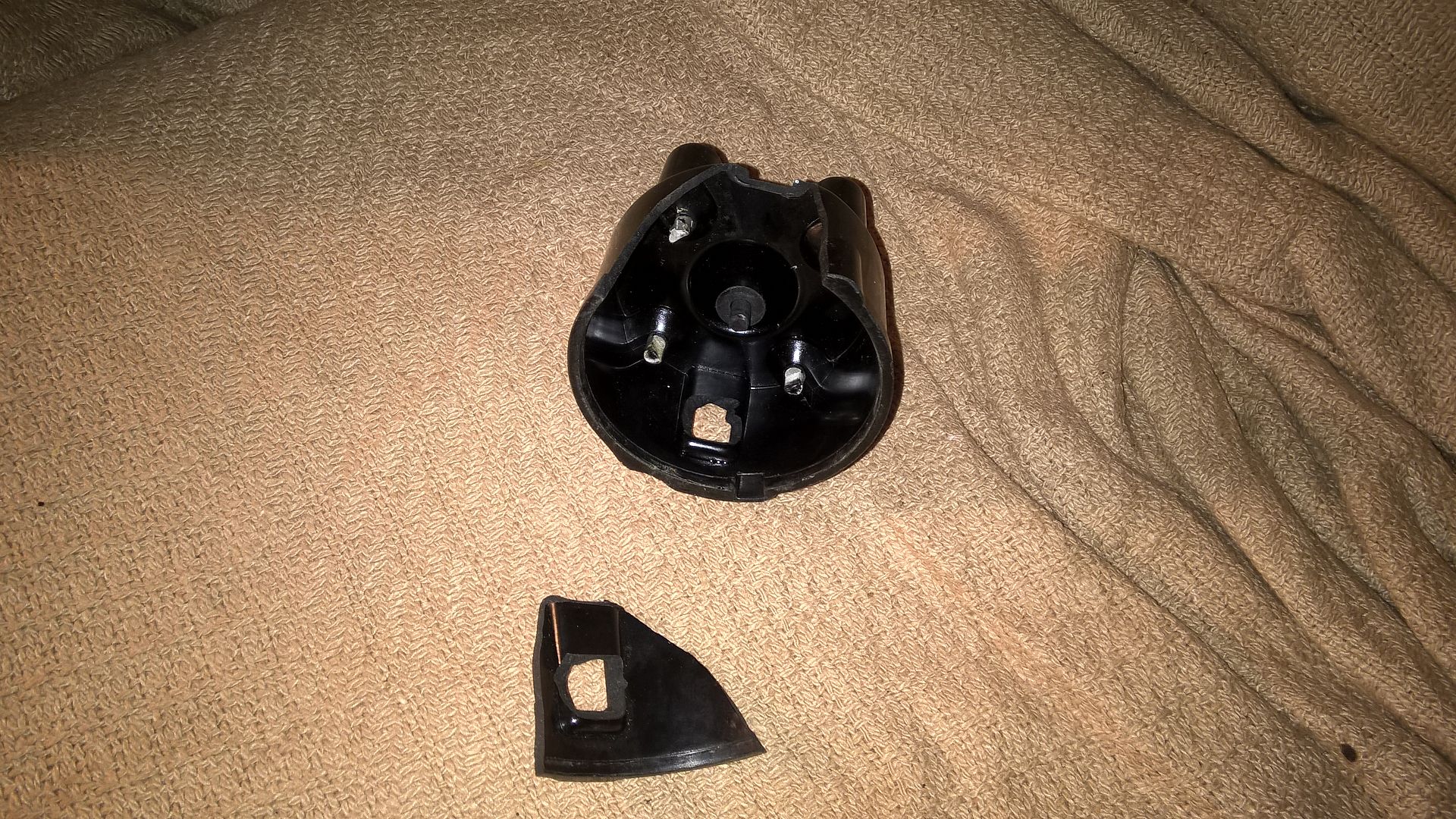 Another part of the exhaust was blowing so I've bit the bullet and ordered a full stainless steel exhaust from the Triumph Dolomite Club. The £280 it has cost me is a bit hard to swallow but is excellent value and will probably outlast the car. The coolant temperature sender failed and I bought a new one from Robsport via their ebay listing. The fusebox was playing up so I've fitted an MGB one so I now have twice as many fuses. Luxury! To prevent the new fusebox gong the same way I've sprayed the exposed terminals with white grease which should keep the corrosion at bay.
This is what happened to one of my HT leads and with the rest looking similarly ropey I'm going to order the Magnecor 7mm leads. The TDC offer a discount to members and they come with a 10 year guarantee. In the meantime, I've replaced the offending HT lead to keep me going.
I've refurbished my steel wheels. I had use of the garage again and with access to heat they have come out quite well. Here are the before and after photos.
This is how I did it.